Grain Free Paleo Waffles!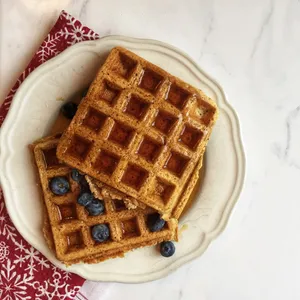 There is nothing like waffles on a Sunday morning! That rich and sweet taste, paired with that fluffy and soft texture, while having a slight crunch on the outside makes for a perfect waffle!
But there is no denying that the typical waffle comes with its negative health impacts. It tends to be a high sugar meal, considering the syrup that is usually pored on top of it, not to mention that the refined wheat flour is also jam packed with refined carbohydrates that are quickly digested into pure sugar, as well as the definite lack of nutrition in a waffle…
Not to fear my waffle loving people out there! There is a better way!
By using alternative flours and syrups, we can quickly reverse the negative health qualities of a typical waffle and make a delicious and nutritious breakfast meal!
Health Benefits of the Grain Free Paleo Waffles!
This waffles recipe is:
Gluten free
Dairy free
Legume free
Refined sugar free
Grain free
Paleo friendly
Low carb (besides maple syrup)
Rich in healthy fats
Rich in fibre
Rich in Vitamin E
Rich in Manganese
A healthy source of Magnesium and copper
Recipe Specifications:
Author: Michael Sharp
Meal: Breakfast, or whenever you'd like!
Prep time: 5 minutes
Cook time: The length of time your waffle maker requires
Yields: 4 waffles if using a standard waffle maker
Requirements: Waffle maker
Ingredients:
1 ½ cups of almond flour (I used super fine almond flour for this recipe)
1 tsp of baking powder
½ tsp of pink Himalayan or sea salt
3 eggs
¾ cup of coconut milk
1 tsp of vanilla extract (more can be added if you prefer!)
Topping: Maple Syrup, or coconut nectar syrup for a lower sugar alternative!
Instructions:
Place the almond flour, baking powder, and salt in a mixing bowl and mix together. Set aside.
Place the eggs, coconut milk, and vanilla extract in a mixing bowl and whisk until fully combined.
Add the wet ingredients to the dry ingredients and mix until fully combined, with a nice, smooth texture to the batter.
Heat your waffle maker and add oil if required (coconut oil or avocado oil are my favourites to use!).
Pour the batter into the waffle maker and make sure each segment has an equal amount of batter.
Wait until your waffle maker is finished, add your desired syrup or other waffle topping ingredients, and enjoy!