Paleo Double Chocolate Muffins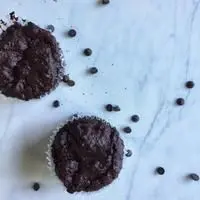 Who doesn't love a good muffin?!
I would imagine nearly everyone would answer that they love muffins, however, we tend to love the sugary versions we buy from the grocery store, or from Tim Hortons.
Typically, muffins contain refined flour and sugar that both disrupt gut functioning, spike blood sugar levels, increase inflammation, disrupt the balance of good to bad bacteria in the gut, and promote the growth of candida and other negative microbes in the body!
What many people don't think about is, if we swap the bad ingredients in conventional muffins for more health beneficial ingredients, muffins can become nutrient dense powerhouses, while remaining yummy as ever!
The Health Benefits of the Paleo Double Chocolate Muffins:
Loaded with cell protective antioxidants from cacao
Zero sugar, making this a blood sugar stabilizing food
Good source of fiber
Free of dietary allergens/irritants such as gluten, dairy, legumes, and grains
Loaded with healthy fats
EXTRA YUMMY!
Paleo Double Chocolate Muffins
Author: Michael Sharp
Meal: Snack or desert
Prep time: 10 mins
Cook time: 15 mins
Ingredients:
2/3 cup almond flour
½ cup flax meal finely ground
2 tsp baking powder
8 tbsp coconut butter
2 tbsp coconut cream
½ cup xylitol (if xylitol makes you gassy, you can replace it with 1-2 tsp of powdered stevia, and remove the stevia drops)
5-10 drops of stevia liquid (depending on if you like it a litter sweeter)
2/3 cup raw cacao powder
½ tsp of pink Himalayan or sea salt
½ tsp espresso powder
4 eggs
1 cup dairy free, added sugar free chocolate chips (I use Lily's Sweets Stevia Chips)
Instructions:
Preheat oven to 350 degrees C, and line a large cup sized muffin tin with liners. Set aside.
Add flax meal, almond flour, and baking powder to a mixing bowl. Mix until completely combined. Set this aside.
Add the coconut butter, coconut cream, xylitol, cacao, espresso, and salt to a saucepan, and melt over low heat, constantly mixing until mixture is smooth and fully combined.
Add the warm mixture to a mixing bowl and let this cool for a few minutes.
Then, add in the eggs, and stevia drops if you desire more sweetness. Mix until fully combined. If the mixture is too thick, add a tbsp or so of coconut milk to the mixture.
Add the dry mixture to the wet mixture and stir until fully combined.
Fold in the chocolate chips and mix until fully combined.
Add mixture to prepared muffin tin. Fill the cups generously, but not overflowing.
Bake for 15 minutes at 350 degrees C.